First Friday Art Walks
First Friday Art Walks will take place on the first Friday of each month from 5:00 pm to 8:00 pm from June through October. Gallery and business participation vary by month, details below. The evening out on the town celebrates both local and regional artists at Foxtrot Fine Art, The Local Galleria, Teton Geo Center and Idea Idea Gallery, Mountain Home Treasures, Tribe Artist Collective, Fireweed Shop and Studios, and Keller Williams Realty. The blue stars on the map below indicate participating businesses. Don't forget to head up to Tetonia during the Art Walk to check out the awesome happenings at Tribe Artist Collective.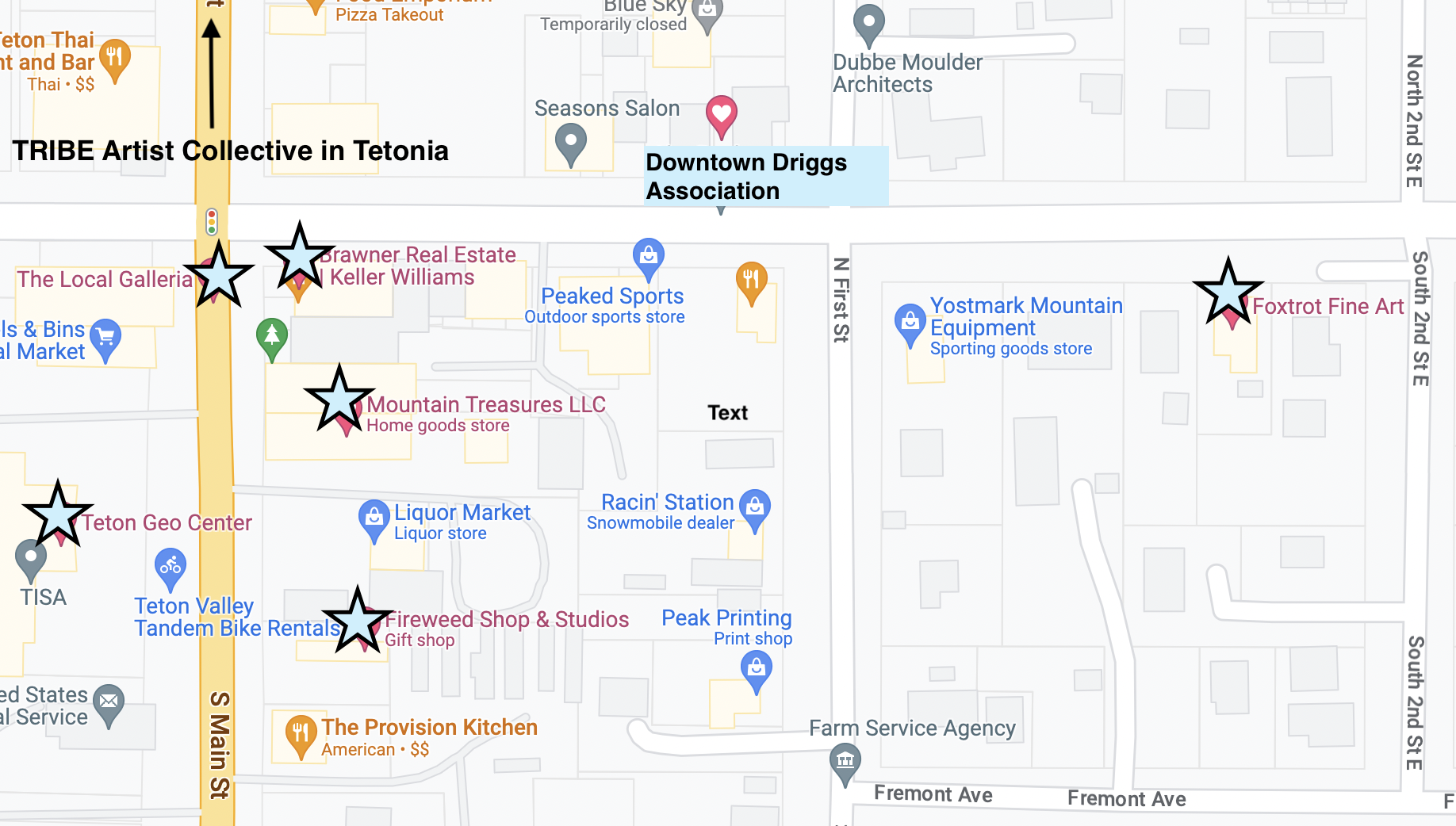 Foxtrot Fine Art
First Friday Art Walk Participation: June - October
160 East Little Avenue, Driggs
SEPTEMBER FEATURE: Taryn Boals: I don't know where I am, but I know exactly where I am
The exploration of Terry, Montana, wildlife of the Greater Yellowstone ecosystem, life in the 1950s to life today continues through Taryn Boal's observation, collections, keen eye and skilled hand.
Teton Geo Center and Idea Gallery
SEPTEMBER FEATURE: Adventures in Fine Art Photography by Howie Garber
Howie Garber is a widely published nature photographer who has won four awards from the BBC in their Wildlife Photographer of the Year Contest. His images have been exhibited in the Museum of Natural History in London, England and in the Smithsonian Museum. His first book Utah's Wasatch Range: Four Season Refuge won a Ben Franklin Silver Medal from Independent book publishers. His second book Adventures in Fine Art Photography has recently been republished. His clients have included Audubon, National Geographic, Nikon, New York Times, Patagonia, and National Wildlife Magazine.
"The highest use of my imagery & books has been to support environmental causes," Garber said. Howie is now retired from a thirty-year career as an Emergency Physician.