Driggs Plein Air Festival
The 12th Annual Driggs Plein Air Festival will take place for registered artists from July 19-29, 2023. Public Festival dates are Sunday, July 23 – Saturday, July 29th. Plein air workshops will be offered by Ken Spencer and Julie Davis. Artists and collectors enjoy many activities like the extended Exhibition & Sale, Opening Reception, Quick Draw Competitions, Workshops, Paint-Outs, Competition Awards Ceremony, and Closing Reception.
2023 Driggs Plein Air Registered Artists
Darrell Allen, Katelyn Baird, Anne Becker, Allen Brockbank, Eileen Brown, Jude Chilen, Mary Corp, Liz Covairt, Trina Craig, David Dean, Alison Dickson, Dave English, Mike Fallier, Christy Fuller, Jonathan Gaetke, Bonnie Griffith, Günther Haidenthaller, Olga Hegner, Kara Hidalgo, Daniel Hidalgo, Anthony Hilscher, Dione Holt, Hai-Ou Hou, William Houston, Karen Jacobsen, Brian Johnson, Al Johnson, Michael Keyes, Helen Keyes, Rick Kinateder, Carolyn Kollegger, Laurie LaMere, Blake Luther, Gerald Mace, David Marty, Johanna McCormick, Heather McCullough, Jean McDonough, Teri McLaren, Trish Melander, Bobbi Miller, Russ Mowry, Jordan Nice, Ruth Nordstrom, Timothy Padilla, Nolan Parson, David Peacock, Susan P. Perin, LeeAnn Ramey, Maria Ressler, Patricia Romines, Julie Rumsey, Bryce Samuelson, Ryan Schoeck, Ian Scott, Michael Sessions, Patty Slade, Arlene Snider in Memory of Dale Snider, Paula Soper, Steve Spencer, Steve Stauffer, Marianne Sturken, Emily Thomas, Sue Tyler, Lane Valiante, Fanie Van, Thomas Van Stein, Benjamin Walter, Helga Watkins, Chi E. Shenam Westin, Elizabeth White, Andy White, Emma Woolstenhulme, Marina Zavalova
Driggs Plein Air Competition Event Information
Downtown Driggs Association's 12th Annual Driggs Plein Air Festival
Calendar of Events 
Wednesday, July 19 – Sunday, July 23
ARTIST CHECK-IN
Driggs City Center, 60 South Main Street, Driggs
Wednesday, July 19 • 12:00 pm - 5:00 pm
Thursday, July 20 • 9:00 am - 3:00 pm
Friday, July 21 • 9:00 am - 3:00 pm
Saturday, July 22 • 10:00 am - 1:00 pm
Sunday, July 23 • 12:00 pm - 6:00 pm
Thursday July 20 - Friday, July 21
Ken Spencer WORKSHOP (Full)
8:00am - 12:00pm (break) 5:00 – 9:00 pm
Saturday, July 22 – Sunday, July 23
Julie Davis WORKSHOP (Full)
8:30am - 12:00pm (break) 1:30 - 5:00 pm
Sunday, July 23
DOWNTOWN SOUNDS CONCERT, OPENING RECEPTION, AND PAINT OUT
Driggs Plaza, 60 South Main Street, Driggs
5:00-8:00 pm *concert starts at 6:00 pm
Free Downtown Sounds Concert with Batdorf & The Brother Wolf with food from Captain Ron's Barbecue and drinks from Two Mountain Winery and Citizen 33 Brewery
Monday, July 24
PAINT OUT - Grand Targhee Resort • Alta, Wyoming
10:00 am – 12:00 pm
Use your free chair lift tickets to meet fellow artists atop Grand Targhee Resort with stunning Teton Views.
DWAYNE HARTY OPEN STUDIO *open to the public
1032 Avalanche Circle, Victor, Idaho
3:00-5:00 pm
View the works of master wildlife artist and plein air painter Dwayne Harty in his home studio and learn about his technique and inspirations. Refreshments provided.
Works in progress will be on display for the international traveling exhibition Bison Forever – Dwayne Harty: A North American and European Conservation Legacy from Near Extinction to Cultural Restoration. Harty's work is in the permanent collection of the National Museum of Wildlife Art and was commissioned by The Yellowstone to Yukon Conservation Initiative as their artist for the 2011-2012 exhibition, Yellowstone to Yukon: The Journey of Wildlife and Art.
Gallery and Tent Exhibition and Sales - 9:00 am - 6:00 pm, Driggs City Center Gallery
Tuesday, July 25
QUICK DRAW • Downtown Driggs
7:00 am – 11:00 am
ARTIST TALK by Meghan Hanson
Foxtrot Fine Art, 160 East Little Avenue, Driggs
5:30 – 7:00pm
Join architect Meghan Hansen as she tells the story of her stunning plein air sketchbooks created during her time long-distance running across North America and China. Refreshments provided.
Gallery and Tent Exhibition and Sales - 9:00 am - 6:00 pm, Driggs City Center Gallery
Wednesday, July 26
QUICK DRAW • Location to be announced
7:00 am – 11:00 am
FREE DOWNTOWN SOUNDS CONCERT • WindSync's Peter and the Wolf performance
6:00-7:00 pm, Driggs Plaza *catered towards youth and families
Gallery and Tent Exhibition and Sales - 9:00 am - 8:00 pm, Driggs City Center Gallery
Thursday, July 27
FREE DOWNTOWN SOUNDS CONCERT • WindSync's Interstellar Cinderella performance
10:30 – 11:30 am, Driggs Plaza *catered towards youth and families
FINAL COMPETITION SUBMISSIONS DEADLINE
4:00pm - Final competition submissions due at Driggs City Center
Gallery and Tent Exhibition and Sales - 9:00 am - 5:00 pm, Driggs City Center Gallery
Friday, July 28
JUDGING, AWARDS CEREMONY, and CLOSING RECEPTION
Driggs Plaza, 60 South Main Street
9:00 am - Competition Judging
9:00 am - 3:00 pm - Peoples Choice Voting
11:00 am - 3:00 pm - Artists Choice Voting
5:00 pm - Awards Ceremony
FREE DOWNTOWN SOUNDS CONCERT • WindSync's Gardens and Galaxies performance
6:00 – 7:00pm, Driggs Plaza
Tent and Gallery Sales - 9:00 am - 8:00 pm Driggs City Center Gallery
Saturday, July 29 • ARTIST CHECK-OUT
9:00 am – 4:00 pm
Gallery and Tent Exhibition and Sales - 9:00 am - 4:00 pm, Driggs City Center Gallery
Sunday, July 30 • ARTIST CHECK-OUT
9:00 am – 12:00 pm
Gallery and Tent Exhibition and Sales - 9:00 am – 1:00pm, Driggs City Center Gallery
Monday, August 1 – Sunday, September 10 • EXTENDED GALLERY EXHIBITION & ONLINE SALE
At artist check-in, all artists must sign an Artist Waiver and a IRS W9 form.

GENERAL
Please display your easel sign while you are painting to help promote the event and give people the connection to Driggs Plein Air and the Gallery, Tent Sales and Treasure Trove. Please wear your name badge as well. Your name badge must be visible in order to take advantage of the business discounts listed on the back of the badge. For last minute supply needs, the Local Galleria (across from the Driggs City Center) has paint and other supplies available and will give Driggs Plein Air artists a 10% discount on all purchases. Artists will be given discounts at local restaurants. Painting boundaries are limited to Teton Valley as artists are encouraged to paint the Driggs/Victor/Tetonia/Alta area. 
SALES AND COMMISSION
A completed and signed Artist Waiver and current W-9 must be completed at Check-in for an artist to display and sell paintings during the event. All painting sales during the event MUST be processed through Driggs Plein Air! This includes all paintings in the Gallery, Tent, Quick Draws and Paint Outs. If someone wishes to buy a wet painting off your easel - great! Give me a call (216-235-7532) and I will run their credit card over the phone. It is common to be approached by individuals while you are out painting, and in some cases artists are commissioned to paint for local business owners, landowners and other interested parties. While we can't monitor your sales remotely while you are painting, we ask you to please work on the honor system. Let us process the sale in order to support the continuation of this event. Your host, the Downtown Driggs Association is a small nonprofit that relies mostly on sales commissions from the event to produce Driggs Plein Air. Commissions on art sales are used to cover expenses in order to keep the event free to the public. Driggs Plein Air will retain 30% of the painting sale price (plus all applicable sales tax). See Competition. Artist commissions representing 70% of the total sale price, plus taxes, will be mailed to the artist within 30 days of the event closing date. 1099's will be mailed to artists selling more than $600 by the deadline the following January. Artists are not allowed to hang their own paintings or any other artists work, unless expressly asked by staff to do so when artist is working as a volunteer. ONLY STAFF is allowed to hang and display artwork.
PAINTING RULES
Paintings will be displayed and for sale in the Gallery and a Tent. At Check in - You can bring up to two (2) previously painted works ready to hang in the Gallery, PLUS one (1) more for the Tent. Maximum painting size for the event is 20x20 IMAGE size, and 26x26 FRAMED size. Deep Canvas Wrap and cradled board must be at least 1 1/2 inches deep and wired for hanging. All paintings must be FRAMED and ready to hang. Our hanging system only works with wire. Canvases/boards/paper may be stamped at sign in and at the registration desk in the Driggs City Center during open Gallery hours. Canvases must be free of images prior to stamping. A base coat of paint (any color) is allowed. We will provide identification tags that you may use to mark your paintings with Title, Artist, and Price. Paintings that do not comply to these rules will not be eligible for the event or the competition. Only STAMPED paintings completed during the week can be swapped out or added to the Gallery or Tent. Only STAMPED paintings completed during the week can be submitted in the final Competition. Up to 2 paintings can be submitted for the Competition in the Gallery. Oil, acrylic, pastel and watercolor are accepted media. Any paper like watercolor paper or pastel paper and any non canvas surface must be STAMPED on the back. Upon submission for hanging, the back of the paper must be visible BEFORE the frame backing is put on. Paintings completed during the workshops are NOT eligible for the Competition. In the traditional definition of 'Plein Air', you must complete your work 100% outside from what you see during the week, within the allowable boundaries. No paintings from photographs and no entries produced using manipulated photographic processes, computer enhanced imagery, or other non-plein air means.
COMPETITION
Each artist will be allowed to enter up to two (2) paintings - STAMPED, FRAMED and wired and READY TO HANG -  into the judged competition. Only stamped paintings completed during the week will be allowed to hang in the gallery during the competition judging. All final competition paintings must be submitted by 5pm Thursday, July 28 - NO late entries will be accepted. All paintings must remain in the Gallery until the conclusion of the Final Reception to allow guests to view all the competition pieces as a group and facilitate the People's and Artist's Choice selections. The Gallery will be closed to artists during Judging on Friday morning from 9am -10:30 am. Competition paintings will be available for sale all day Friday, in order to give the public the opportunity to purchase paintings before the Awards Ceremony. Buyers will be asked to leave the paintings in the gallery through the end of the Awards and Reception. The Gallery Exhibition will extend to Sept. 10. Unsold paintings may be picked up anytime after the Awards Ceremony on Friday night until Sept 10. After the Main Event, the Gallery Exhibition will be available ONLINE. Additional Rules for the ONLINE Exhibition and Sale will be shared with those exhibiting.​
TENT SALES
TENT SALES - Each artists is allowed to display two (2) Driggs Plein Air stamped paintings in the TENT. This can be a paint out, quick draw or any other stamped painting. See paint out and quick draw information below. Maximum painting size Tent is 20x20 IMAGE size, and 26x26 FRAMED size.  Eligible paintings must be submitted on a FRAMED and wired READY TO HANG canvas/board/paper.
QUICK DRAWS
Participation in the Quick Draw competitions are not required, but they are great opportunities to promote your artwork and Driggs Plein Air. Traditionally, these have been high traffic events with good on-site sales. Wet paintings will be available for sale immediately following the Quick Draw at the TENT, and cash prizes will be awarded. Quick Draw paintings have to be picked up by 5pm the day of the Quick Draw, unless you submit it into one of your four spots (2 Gallery, 2 Tent) Stamping for Tuesday's Quick Draw takes place at 7:00 am the Gallery. Tuesday morning's Quick Draw in downtown Driggs will be awarded based on People's Choice voting at midday. Artists will be given a different color paper for their votes. Each person is given one vote only. Artists are asked NOT to talk to the public to promote their painting. Voting will be carefully monitored to ensure fairness. The downtown Driggs Quick Draw paintings must be started and completed on-site or within three blocks of the traffic light in Driggs. Stamping for Wednesday's Quick Draw takes place at 7:00 am on a private property.  Location details will be given out the day before this event. Artists are asked NOT to return to the private property after the Quick Draw unless given permission. One of the workshop instructors will judge the Wednesday Quick Draw paintings midday in downtown Driggs. Both Quick Draws require that paintings be completed within the timeframe of the Quick Draw (see schedule) No Quick Draw paintings are allowed from photographs or digital devices, and no entries produced using manipulated photographic processes, computer enhanced imagery, or other non-plein air means will be accepted. All paintings must be completed on a stamped canvas or paper and must be framed. 
PAINT OUTS
Participation in Paint Outs is optional and your competition piece is not required to be completed at a Paint Out. Paint Outs are opportunities to see some beautiful places and mingle with other artists. Framed Paint Out paintings can be sold in the Tent. You will have access to Grand Targhee Ski & Summer Resort with two tickets to use during the week.
Driggs Plein Air Festival Awards
2023 Judges are Ken Spencer and Julie Davis
​
2022 Competition Awards
1st Place    $1,200
2nd Place          $800
3rd Place           $600 *Sponsored in by Plein Air Painters of Idaho

Susan M. Rose Artist's Choice - $100
People's Choice -  $100

Quick Draw 1st Place   $300
Quick Draw 2nd Place  $200
Quick Draw 3rd Place - $100
Plein Air Painting Workshop with Ken Spencer: ​July 20 - July 21, 8:00 noon (break) 5:00 - 9:00pm, $300 for 2-day workshop | Maximum number of students is 16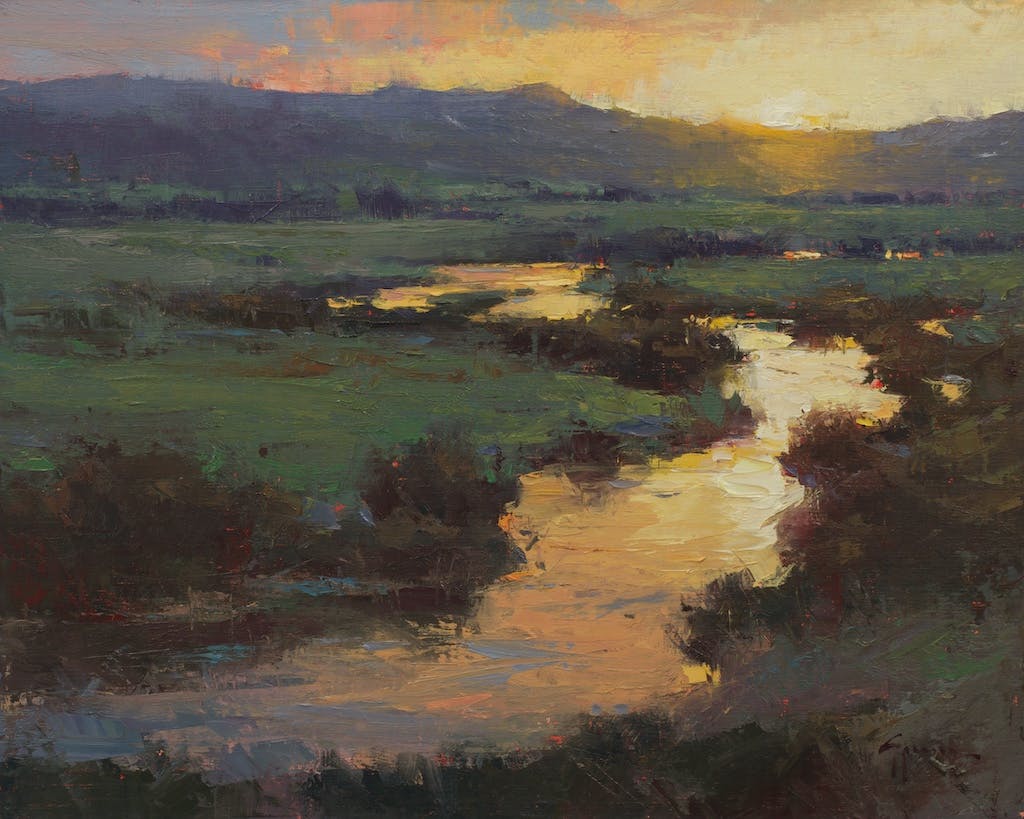 This workshop will focus on composition, value, form, color, and edges… the building blocks of traditional artwork.  We will explore how using these principles can effect what the viewer sees and in what order they see it.  We will discuss ways of creating and managing dynamics within a painting and how that can help to achieve artistic purposes.
Each day will be broken into two sessions.  A morning session from 8am to noon, and an evening session from 5pm to 9pm.  Mid-day is unstructured.  Ken will demonstrate each day, then paint along side participants to apply the principles taught. 
"There is so much that goes into making a successful painting!  Ultimately, painting is decision making, not copying. We want to learn how to think, analyze, and interpret.  The more we understand and practice the principles of art, the better choices we can make.  A bad decision is better than no decision.  But good decisions and purposeful choices, inspired by experience and a mixture of intuition, is the way to powerful artwork."
J. Ken Spencer Biography
J. Ken Spencer was born in Ogden, Utah. He began painting at the age of 14, studying with local artists and teachers. Spencer pursued his interest in art at Utah State University (Logan, Utah) where he gained fundamental knowledge in composition and form.  He also developed skills such as draftsmanship and paint application while working from live models. He graduated in 1993 earning a Bachelor's Degree in Illustration.
After finishing his studies at the university, he moved his family to the New York Metropolitan area where he worked as an illustrator for book publishers and magazines. It was at that time when Mr. Spencer began developing his fine art career by painting for exhibition in galleries and juried shows. He has exhibited his work in New York, New Jersey, Pennsylvania, Connecticut, Virginia, Arkansas, Georgia, Missouri, Oklahoma, Texas, Utah, Idaho, Arizona, New Mexico, Wyoming, and California. He has been included in such shows as the Oil Painters of America (Awards from multiple years), Masters in Miniature (Trailside Gallery, Jackson WY), American Miniatures Show (Settler's West, Tucson, AZ), Scottsdale Artist's School- Best and Brightest (Best of Show), The Harrisburg PA Art Association (Best of Show), and National Oil & Acrylic Painters' Society (Monteverde Award). After living on the East Coast for seven years he moved his family back to the West where he now pursues his fine art career full time. He and his family reside in the small town of Blackfoot, Idaho.
Mr. Spencer values the benefits of plein air painting with all the challenges and joys of working in the open air.  "Painting on location gives me a chance to see new things, to see different light conditions and to regularly feel the creative juices. When I paint in plein air I see the subtle colors and values of nature that are only possible by first-hand experience.  Photography can not capture those subtleties."  He also values the steady, measured power of studio painting. Plein air work gives an artist fresh insight into the behavior of light and color but studio work gives time to develop composition and technique not possible in short settings.  
Ken has traveled throughout the U.S. as well as to France, Italy, Germany, England and the Czech Republic to paint on location and gather reference material to paint. He spent time in Paris, Brittany, Normandy, Florence, Venice, Tuscany and the Cinque Terre, Bavaria, Prague and Bohemia. These areas are rich in visual textures and imagery. He spent time painting the small villages, large cites, coastal regions, and the people of Europe. All of these trips have generated many wonderful images and strengthened his abilities as a painter. He continues to travel locally and abroad to search out new inspiration. 
Please visit jkenspencer.com for more information.
Plein Air Painting Workshop with Julie Davis: July 22 - July 23,  8:30 noon (break) 1:30 - 5:00pm, $300 for 2-day workshop | Maximum number of students is 16 | THIS WORKSHOP IS SOLD OUT. PLEASE EMAIL EVENTS@DOWNTOWNDRIGGS.ORG TO JOIN THE WAITLIST.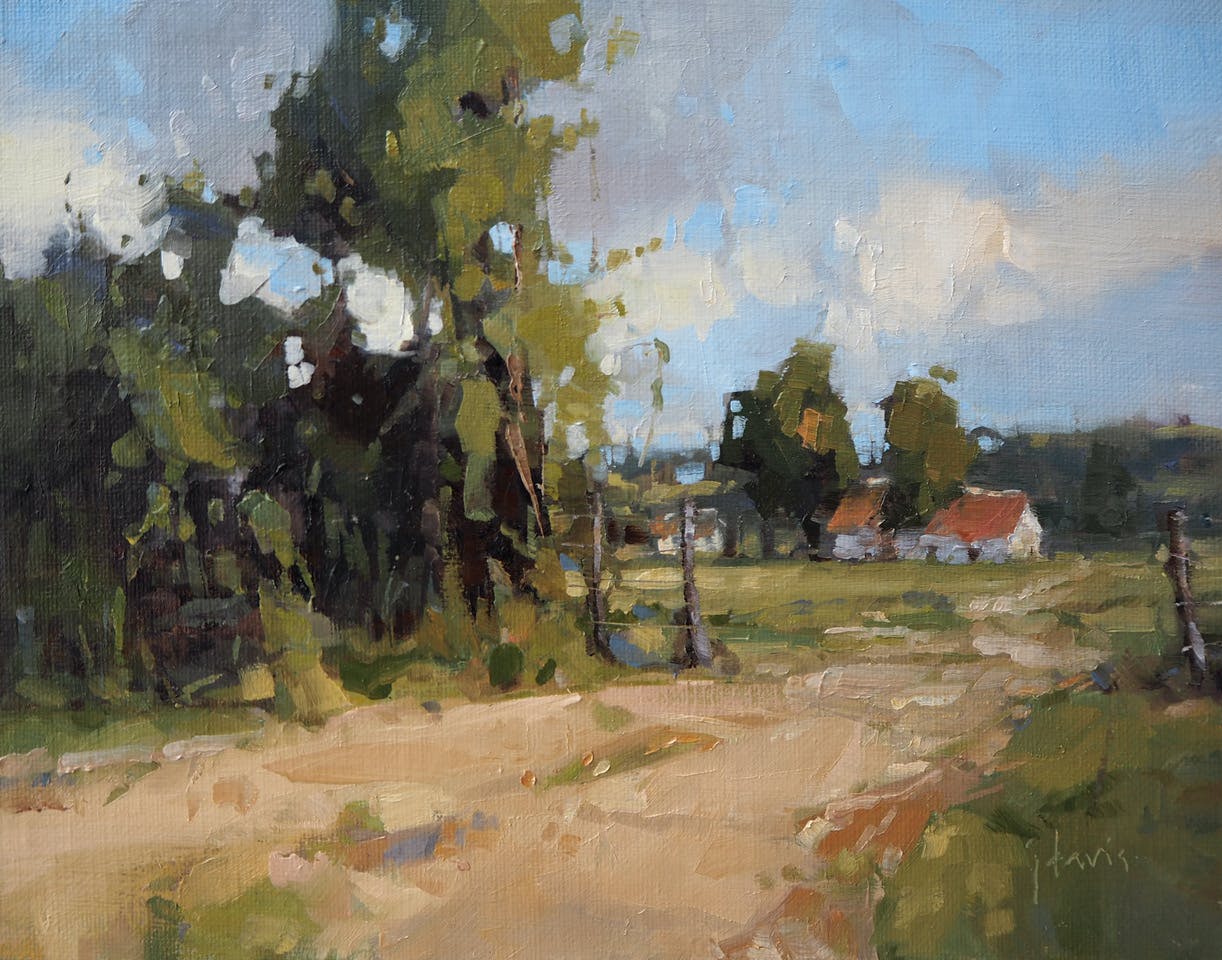 Workshop Title – The Figures of the Landscape
When I paint outdoors, I focus on information-gathering using color studies, notes, and thumbnail sketches. In this workshop, we'll emphasize that process and dial in on trees or tree groupings as the "figures" of the landscape.
I'll touch on the fundamentals of materials, value, color, edges, composition, and design as they relate to trees as part of or primary subjects in a landscape painting and share what benefits me in rendering trees in my paintings.
Classes will consist of a brief lecture, a demo, and time dedicated to putting concepts into practice. Plan on creating multiple small outdoor studies, though you may find time for one or two more "completed" efforts. I often do multiple studies on a single panel by dividing it into sections with painter's tape. Students should have previous experience with painting outdoors and be comfortable with either oil or acrylic (I will cover working with oils, techniques may vary with acrylic).
My goal is to help you develop your unique approach to designing trees, with emphasis on searching for the essential nature of a tree or tree grouping, the importance of selectivity, placement, and design. I hope to guide you to a deeper understanding of and greater confidence in handling trees in future paintings.
Julie Davis - Biography
Texas artist Julie Davis is drawn to the individual expressions of trees and the curious lines of long-forgotten structures, giving her paintings "both a lyrical and an architectural vibe." Julie grew up drawing and creating and earned degrees from Baylor University in education and law. In 2007 she had the opportunity to satisfy her lifelong curiosity to study oil painting and sought out some of the preeminent landscape painters in the country with whom to study. 
 Davis's plein air work earned Best of Show in the 2019 American Impressionist Society's Central Park Paint Out in New York. Her work has been featured in Plein Air Magazine and in Southwest Art Magazine's Artists to Watch section and is in private collections across the country. Davis is a Signature member of the American Impressionist Society, Oil Painters of America, and American Women Artists, and is a member of the historic Salmagundi Club in New York City. She is represented by Davis Gallery in Austin, TX, Gallery 330 in Fredericksburg, TX, Mary Williams Fine Arts in Boulder, CO, and Mockingbird Gallery in Bend, OR. Davis and her husband have three grown daughters and live in Austin.
 "Our experiences with the landscape are as unique as each of us. When I go outside with my plein air gear, I'm looking for subjects that draw an emotional response from me. I try to then build a painting that communicates both my reverence for and my expression of that place. The land always has a story to tell, and there is beauty in that. I do my best to understand the story within every subject I paint."
Please visit www.juliedavisstudio.com for more information
Plein Air Festival Sponsors
Downtown Driggs Association is grateful to Driggs Plein Air sponsors who make this beloved annual event possible!